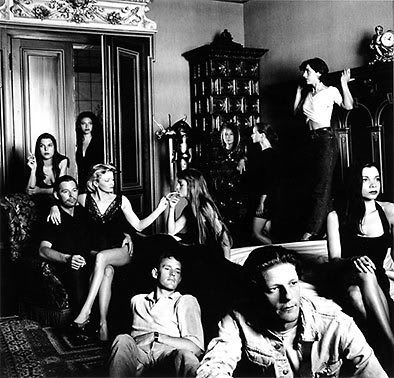 Well, I guess I
had
already introduced those characters, Carla and Brad, I just haven't talked about them lately...
Calrla, who's from Venezuela, was Jody's close friend she met in college. She is a tiny, petite girl, like Jody. On the night I remember meeting her, in 1985, at Berlin, (after much build-up from Jody about how great she was and how much she loved her) Carla had long, black, curly hair, and rough looking hands she accentuated with long, red nails, which she perched near her mouth while dangling a cigarette and a cocktail, and bright red lipstick. She looked like a tiny Frida Kahlo, with a dash of modern excentricity thrown in. I believe Jody and Carla were both studying chemistry at the time, for they were still planning on becoming doctors.
Right before I had met Jody and Carla, they had met Marty, Dave, and Mark one night at Berlin .
I know
why they were attracted them. Whenever they were together, Jody and Carla ignited an irresistible, wicked, conspiratorial aura that drew you to them, and
that
made you want to be in on the joke, because it always looked like a good one. You could tell, just by looking at them, that they were the smartest ones in the room.
And
they were cute. The five were fast friends, and soon I was friends with them all.
We spent a lot of time at their new friend's apartment building on Barry, just off Halsted. Dave lived on the first floor, and Marty lived on the second, with his friend Mark's place across the hall. I loved that building. It had such a cozy, urban feel to it, that to me, defined perfect city living: all your neighbors are cool and fun, so it's always a party!
Marty was an amazing artist, model, drummer, and all-around Greek God. It was hard to hate him, despite all that he was blessed with, because he was so much fun.
And
he liked to walk around naked a lot. Ok,
all the time
. It never struck me as vulgar when he did that, because his body was so perfect, it was like spending time with a living statue that liked to get drunk. And, um, oh yea,
I'm gay
. Mark, a teacher, had fallen deeply under Marty's spell. (Most people did.) Mark's knowledge of the worlds of literature, music, and film was vast and inspiring to me. He turned me on to Isherwood, E.M. Forster, Roxy Music, and the French "New Wave" films. I was always a big reader, but Mark constantly stressed the importance of great writers, and the impact they can have on our lives, and reading everyday. Dave was an artist, too, and I believe he knew Marty from college in Milwalkee. Dave's 'friendship' with Carla quickly developed into something more, and soon they were engaged.
It was fascinating for me to listen to their conversations, but it made me regret not going to a 'real' college. But they never talked down to me, because they knew I admired and looked up to them, so they were always quick to point out my strong points; mainly my nerve to live an intense, new wave life style (it's OK, you can laugh...), and the brain that was buried underneath it all.
"I never see
anyone
dressed like you! You're so creative. I wish I could do that." Marty would say to me. "And you're so gorgeous, with that perfect skin of yours! See, that's corn-fed-beef-beauty, cause you grew up in Wisconsin. You ate a lot of corn growing up, didn't you?" He asked.
"Umm,
yes?"
I said.
"
That's the secret
!" He said, confident he was on to something.
"What the hell did
you
eat to get they way
you
are, Marty?!" I said, as they laughed.
Looking back, I think it was my aura of self-loathing that inspired their positive comments. The 'alternative' facade I used to mask my insecurities was painfully transparent to them.
Mark would secretly encourage me to 'do something more' with Marty, because of the attraction he perceived Marty had toward me. I never understood why he did that, because Marty is
straight
, and his whole being was so intense and beautiful, I rarely entertained such an unobtainable scenario. My theory why he did that was, if Mark could 'open the gates' to Marty's sexuality, a sexuality I doubted Marty even had 'gates' to, he could swoop in and lay claim. This is only a theory, mind you.
We spent many nights together, drinking wine and popping sedatives, and trying to figure out this world, our place in it, and the best way to leave a lasting mark on it.
Around the time Carla left for a few months to marry Dave in Venezuela, much to Jody's distress, (over Carla being gone so long, not over the marriage; Dave is an angel) Brad was getting ready to move in with Jody, Scot and me.
It's hard for me to relate to you everything about Brad, and all that he means to me, without writing an entire book right now. (I just might do that some day, actually.) Bearing in mind that he and I have a history that starts when we were both eleven years old, here's the rest of this story:
Brad was still living in Wisconsin when I moved here, and one day over the phone I convinced him to move to Chicago. How I ever convinced Jody and Scot to let another person move in to our already tight quarters is a mystery to me. Especially considering that fact we three, Jody, Brad and I, had to sleep in the same bed, as Scot had recently reminded me.
"No way!!" I screamed at him. I just don't have any memory of that. But Scot has a better memory for the more specific details, so I trust him. (I haven't talked to Jody about it yet...)
After Brad moved in, his charm and good looks quickly won over Scot and Jody, and he and I would steal away to the bedroom and lock the door and catch up on each others lives, and rekindle our sexual relationship. In my eyes, it was an intimate relationship with deep meaning to me, but I was never quite sure what it was to Brad back then. I don't know if it was me and my pathetic insecurities, but I could never pin anything down with Brad. I would try, but he had an uncanny knack of worming out of those conversations with just enough words to placate me, without demolishing any hope. I find myself in these stupid situations over and over. I heard the words
I love you
often from him during that time, but our definitions were clearly not the same.
This situation between us quickly became moot, for Brad's mother had started to contact him, and that began to occupy all his emotional energy. She had moved away when Brad was very young, after her divorce, so Brad never really knew her. He rarely talked about her with me when we were younger, mainly because his step mother was such a monster, and it was all he could do to deal with her. (He would give me daily updates of her vicious treatment toward him, but I could always tell it was just the tip of the iceberg, for she wounded him
deeply and often
.) His joy in hearing from his true mother was palpable, and we all seat rapt listening to their conversations he would relay back for us:
"She's been living in the south for twenty years now,
and get t
his, she's gay! She lives with her girlfriend! She wants me to come there and spend some time with them, because she wants to do her best to prove how much she loves me, and try and heal the pain she caused me by running away and not being in my life." He said, through tears.
I kind of didn't want him to go, because I just got him back in my life, and I was afraid he would want to stay there. But he went soon after that, for many weeks, with my blessings. (He eventually came back.)
Jody and I would sit around and mope over our departed loves. I would play Euroglider's
Heaven
(that song is still so amazing, I don't understand why it never gets any air time on the retro stations today) over and over, Brad's favorite song, but Jody would refuse to let me play any Bowie, because every song reminded her how much she missed Carla. I would sometimes sneak
a song
or two, on low volume, but she always heard me playing it, and would come running into the room to turn it off.
"
I'm not kidding! No Bowie!
" She would yell.
We decided Kate Bush was a good compromise, and we let
her words
express our sadness during those long weeks. (Teenagers just don't write songs like that anymore, do they?) I bought every EP, LP, 12", and record I could find of hers.
"Jesus, it's like a goddamned funeral in here anymore! Can I please put on some
dance music
or something! No more arty smart-chick music!" He said, trying to shake us out of our funk.
I suspected Jody was secretly happy Brad was gone, because now it was back to just her and I in bed...