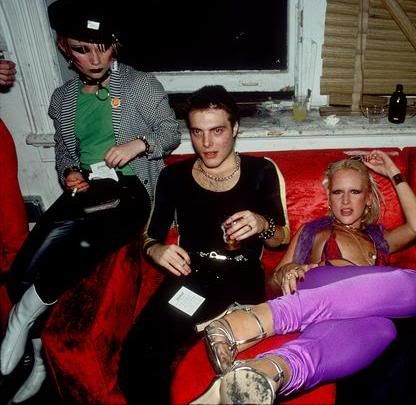 On Friday nights, in the fall of 1990, I would often lounge on my couch and chain smoke, and watch the planes heading toward O'Hare as they floated past my window, and contemplate the flight patterns, while watching
The Days and Nights of Molly Dodd
or
Twin Peaks
, or whatever the hell was on TV back then.
London... Tokyo... Dallas...Las Vegas... LA... Paris. Another plane, another city...You want me to where next week? Cairo? Oh, alright...
I would think to myself.
This was a few months after my trip to London, and boy did that trip ever create a desire in me to travel more. For months afterwards I would stop and stare at a plane that was headed away from the city, wishing I were on it, being excited about the new land I was about to discover.
One night that fall my lazy day dreaming was shattered by the sounds of gun fire. My first instinct was to get low, for it seemed the shooting would never stop. When it did, I crept up to my balcony door, even though my apartment sat way back from the street, and just as I reached the door, I saw some kids running down Sheridan, away from another kid pointing a gun at them.
There was then, as like now a rash of gun violence involving young people and guns in this city. I remember the entire family, kids and all, shot execution-style, a few doors down from where I lived; a crime that was never solved. I also remember around this time a friend's son being shot across the street as well, with a shot gun, behind a fast food restaurant.
I found out later that a no one died that night, but a teenager was shot in the spine, and lost his ability to walk.
In the fall of 1990, I met Renee. Tony from Berlin introduced us because we were standing next to each other one night, and he pointed and said
Hey! You love Boy George, and you love Boy George! You should talk
! And we've been friends ever since. I think we took this
picture
the night we met, for I rarely, if ever, ripped in half a photo booth series. You had to really beg me back then. They are
polyptychs
, you can't break them up...
Of course, having just met George, I told her the story, and it became a thing: I had to tell her the story every time I saw her. Not that I minded, of course. We spent many nights at Berlin in those early days, torturing Dion(now in LA)or Bobby (now at Crew) into playing way too many Boy George vids, to the point when the moment they saw us together, they put one on. God love 'em! We eventually moved on to other musical obsessions, Suede, Pussy Tourette, Annie Lennox, Belinda Carlisle, Lush and Shakespeare's Sister come immediately to mind, but this 1990 '91, and
Jesus Loves You
had just come out, and we couldn't hear it enough.
I was spending less time with Erin, because she moved out of the city for a while, and we didn't get together like we used to, but I was still spending every Sunday night with Scot at Berlin and Christopher Street and Vortex.
I loved our walks to the bars, and looked forward to Sunday nights with him; the bars weren't as crazy as they could be on Saturdays, and I liked the mellow vibe of a Sunday night out, when we had the dance floor nearly to ourselves for hours at a time. The
S'Express
days were waning, because he told me he couldn't afford to live in Chicago any more, and was moving home in January.
It took me a while to understand how deeply his moving affected me, and the deep sense of loss, so I guess Renee came into my life at a time when I needed her.
Oh, and as promised,
Wigs of New York
. And I hope to God you listened to the title
song
. Go to Amazon and buy the CD! You'll thank yourself for years to come...