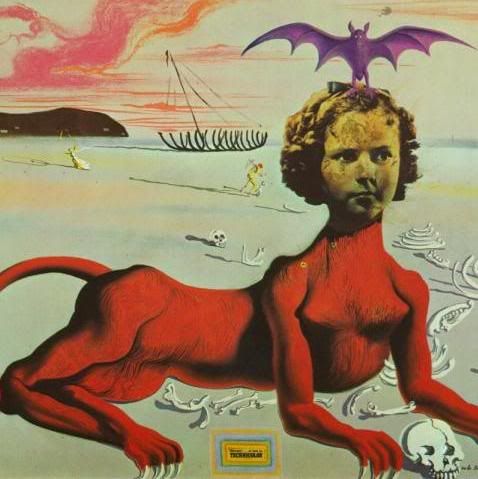 Tayler walked into the apartment a wreck. She was crying, and her face was a smear of snot and mascara and lipstick. Her leggings were ripped at the knees, where some blood trickled, and under one arm was a smashed cake box.
"Tayler, what happened?! Are you hurt?!"Ava and I shrieked. (Well, as much as two could shriek, who had been hitting the bong all morning, anyway.)
"Some bitches robbed me! I'm alright, I guess. I got off the train at Sheridan, and they came out of no where and pushed me down at took my purse and ran off!"
"Oh man, on Easter?!" I said
"Yea. On fucking goddamn Easter. Here's your cake." Tayler said handing over a smashed mess. "Ooo, it smells good. I'll get some forks" Ava said.
"Dammit! Where's the bong!" Tayler yelled.
Sometime in early '91, Ava moved in with Chris and I, and I was right, our new solidarity kept us on the right track for a while, and we didn't indulge in night life activities as much as we had been. Chris found a job as a receptionist at a salon on Belmont, B Vamp, where he earned the moniker Pancake, because he was in his compact every two seconds, reapplying. I was loath for him to work there, for I still hadn't forgiven the B in B Vamp, for his jumping on my back and trying to ride me like a pony, not once but three times, bombed out of his mind, at the Midwest Beauty Show, in 1989.
"He was probably just excited being around so many hair stylists." Chris said, laughing.
I pushed those feelings aside, however, when I saw how well they took care of him there, and when I kept hearing the tails through Chris of how much fun they had everyday, I debated applying for a job there.
My work situation turned into one headache after another at the time, and I dreaded going there, and complained to whoever would listen, but I hadn't the nerve to quit. If I hadn't been working with Erin at Neo that year, hosting Sunday nights, I'd have lost it.
Soon after Ava moved in, we had a party. A 'get to know each other's friends' kind of party. I hoped it would be better than the one I threw for Erin for her birthday, when three people showed up- I told you no one comes to my birthday parties because there's too many Christmas parties going on, but thanks anyway! And not as good as the last one Scot and I threw, where I had sex with Skip after I broke up with him, in Scot's room, after barracading the door, not realizing there was some else in the room, who, it turned out, didn't want to leave. Yes, not that much fun, but not too little, either. In all honesty, if I hadn't pictures from the party that night, I would not remember it. I guess that's good.
My relationship with Mark was slowly fizzling out, and turning into a friendship, and that was bumming me out.
I liked sleeping with him, and wanted to continue our affair, but the night he wriggled out of cuddling with me, while watching
Silence of the Lambs
, only allowing my temple to rest on his thigh, I realized it was over.
It should have ended the night I realized I was in bed with yet another h addict with an inferiority complex, yet I kept going back to him for a while, because he told me he liked to smell his sheets after I spent the night, because he never smelled anything like it. When I told him I wore Dali, he bought some, too.
He lived by a Green Line el stop, in and old carved up mansion, on the west side. It was one of the few residences left in the area at the time, stuck in a corner, and easy to miss; the once grand homes of the 1880's giving way to industry in the 1950's, and to the street walkers in the 90's. Despite the fact the entire building was surrounded with a chain link fence, the building and their cars were constantly broken in to. I hated spending the night there.
When I couldn't sleep for fear of a midnight murder, I snuck out of bed and smoked in the living room, quietly lit by the blue Italian lights strung on the wall, next to the drafty front window. This was early winter of '91, and I watched the snow fall on the empty lots across the street, and on the unused factory buildings across the other streets, everything stained a piss yellow by the street lights, annoyed by the silence of the car-less road, wishing I were stoned, and wishing there were vitamins in cigarettes; I felt so unhealthy lately.
That was a habit I started at an early age: staring out at a snowy landscape at 3 in the morning, cigarette in hand, wondering how my life got so fucked up, and fighting with every fiber a desire to be normal. Ahh, the introspection winter inspires in me.
I was in a handstand and cart wheel phase at the time, and my constant gymnastics annoyed him, which wasn't hard to do. (I am the oldest of five boys, so I know how to annoy, and he was bullied by his older brother. It made for an interesting combo at times...)
I sat at his typewriter and typed, over and over, ala
The Shining
, S-T-E-V-E-N, P-U-S-H-O-FF. (
Ouija Board
is my favorite.) We actually used the Ouija board in his place, but I did not like who I met doing that, so we only did it once.
Mark was a great story teller, and a brilliant writer, but he wouldn't believe me. I often thought to myself, Does he think I'm dumb? Does he actually not believe he has a gift for writing?
We sat together in many dive bars, and divey gay bars, and downed a lot of scotch, and talked about writing and art til all hours of the night. I still have the e.e. cummings book he gave me.
Speaking of Morrissey, I have Rene to thank for rekindling my love of him. One night driving in her car, she played a mix tape, and
The Boy With The Thorn In His Side
blew up in my brain, and I cursed myself for ever doubting him. Oh God, I gotta get some more of this! I said to her. She also made me fall in love with Pet Shop Boys and Vivaldi.
One Sunday, Ava, Chris and I realised we were about to get the tattoos we had been discussing for the past few weeks, on the same day. Tranay, who was a friend of Ava's, talked us all into getting inked by the man she worked for, Guy. His newly opened studio, Guilty and Innocent, was across the street from our apartment, and we debated for weeks the designs we wanted and finally chosen: Chris, a belt of vines, Ava an art deco figure, and me, a Sphinx. We each were present at some point during each other's tattooing, Ava's being first that day, and the sight of all that blood dripping down her white back, gave me pause. I had no idea how much tattooing bled!
When it was my turn, they walked me across the street, stone cold sober, as Tranay suggested, and stayed a few minutes, before leaving me alone with Guy and
The Best of Blondie
. Needless to say, tattooing is very, very painful, despite what you've heard, and I had an out of body experience the entire time. Guy did an amazing job transforming my tiny picture of an idea into my tattoo, and I regret breaking the creative spell he was under, after I saw what he had started to do free hand, outside my design idea. It was just too painful to stay under the needle any longer than I had to.
I didn't know how Chris kept going back to get his tattoo completed after Guy started his that Sunday, because his was around his entire waist, and required many hours, and mine was finished that night.
I still love my tattoo, and whenever I look at it, I'm reminded of the permanent ways our friends can change us, despite the passage of time, distance, or death.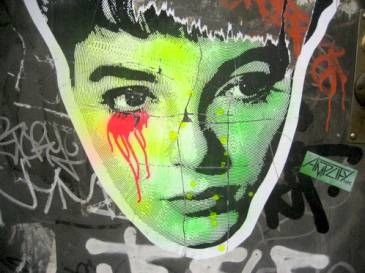 At Ava's party, 1991:
Tayler & Ava
Tony & Philip
Yours truly
Rene, betwixt Scot's artwork
At Erin's party, 1990:
Scott & Erin
Me & Erin
Scott & Scot & Rhine
Neo, 91
Guy's card
Kiss Them For Me