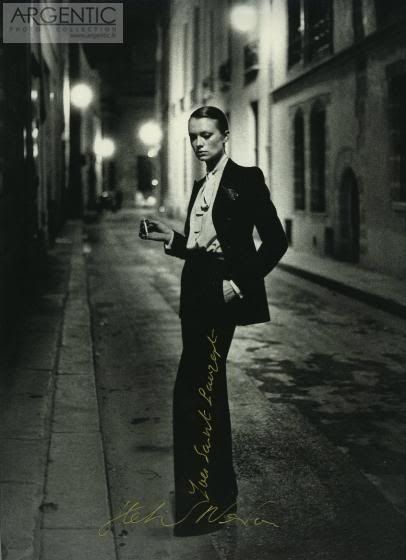 To pick up from the last post, here's my love letter to Medusa's. (I guess all my posts are all love letters, in a way...)
During the summer of '85, Scott, Brad, Jody, Carla and I lived for Medusa's. The building (it's still there) stood on the corner of School and Sheffield. It was four stories tall, and I think it was originally a warehouse or a factory. We tried to to get there early, but between our hair and make-up, it took us forever to get out the door. Getting there early was a necessity, because the line of cool kids waiting to get in was always a block long. Standing in the line was never as much fun, cause we couldn't hear the music! It
was
a good way to see how our look rated with these kindred spirits, but the music was our main reason for going.
Once we got the ok from the doorman, we climbed the huge, steep, flight of stairs to pay the cover. I saw
way
too many stoned kids take a tumble down those stairs. If Blue was in the mood, we got in free, and it was off to paradise!
They had taken out two floors to the back half of the building, so the dance floor was two hundred feet tall, just a giant room. My favorite decor was their doll house theme. Someone made a giant couch, like ten feet tall, with a chair and coffee table, and we would dance on them, like Barbie dolls come to life. Or if we had the nerve, we would dance on the stage. But you had to be a good dancer, or have a good look, cause everyone would look at you. When I needed a break from dancing, I would go to the second floor balcony, watch the scene below, and think to myself:
Thank God this place exists, thank God I live in a city, and even though it's not New York, Chicago is just as good. Whoever invented Medusa's is a genius!
The second floor also had a movie lounge, and groups of people would lay on the floor and watch weird movies (
Liquid Sky
was a favorite) or a filmed live show of a punk band. I never understood why any one would want to lay around Medusa's; it was the antithesis of laying around! We were also very leery of entering that room, for the big rumor was it was the junkie room. Junkies are scary!
Speaking of scary, there used to be a group of people that would do performance art there through out the night. They did odd things like walk around with burning candles glued to their heads, or eat food off kittens, but I never really 'got' them. Their looks were always puzzling, cardboard boxes as clothing, for instance, but they took things to such extremes, it just went over my head. They always added a little drama to the night, but they just didn't seem like they were having any fun. I liked them less when I heard they were stung-out trust-fund kids, and that they just let those cats go after their 'act' was done- they basically threw them away.
(Ironically, not long after that, Nina Hagen and Lene Lovich sang their song for PETA,
Don't Kill the Animals
,
on that very stage
. [A song we all secrectly hated] Oh, if they only knew...)
Now the music. Oh, that music! If you grew up alienated and ostracized in a small town like I did, you gravitated toward things that were different. Like seeking like, I guess. Mainstream entertainment never appealed to me because it's denizens rejected me, so I rejected
it
. On top of that, my rebellious nature forces me to hate things everyone else likes. The more different, as long as it was
'good'
, the better.
I grew up in Appleton, Wisconsin, home of Lawrence, a great school for the arts, and their late-night college radio was killer back in the early eighties. I would be up for hours every night, writing down the bands I liked, and I would go to one of the many great record stores Appleton used to have, on the weekends, and spend hours deciding which
one
record from my stack I could afford to buy.
The Clash? XTC? The Cure? Siouxsie? The Jam? The B-52's?
Yes, I'm one of
those
kind of people: I liked REM and U2 way before anyone else did. I know a lot of people can say that, and a lot of people can say
before
before I did. I'm still like this today. I love seeking out new music and film; let's just say I was among the few hundred or so people who were at
Suede
's or
TV on the Radio
's first Chicago shows.
But I toot my own 'cool' horn
and
digress...
The music Medusa's Djs would play had and aura you could almost touch. It was like they searched out dance music that was written by disaffected youth, for disaffected youth. Kinetic melonchalia. Probably because we paid the bills, I suppose. Some of the songs were old friends, but most were new to me, and anthemic, because of the passion they inspired in us. Unlike myself at the time, those musicians reveled in, and celebrated what made them 'apart' from everyone else; it was as if the djs were trying to 'heal' me!
It's amazing what you can create with a little angst and a keyboard...
I wish I could remember all the bands I discovered there. I've been wracking my brain (and the internet: God Bless Youtube!) all week, and came up with this small sampling of a typical night that stands out in my memory:
Front 242
,
Ministry
,
Anne Clark
,
Vicious Pink
,
ABC
,
Cocteau Twins
,
New Order
, Data,
Japan
, and
Propaganda
. Sadly no data on Data's
Living Inside Me
, yet. And I know ABC seems a little out of place on this list, but it seems I was constantly hearing
Vanity Kills
there.
Yay! Vanity Kills! Let's dance!
Sometimes I felt they played that song whenever
I
walked into the room... ( I was hard to miss: my hair was 2' tall back then.
Really
.)
It's odd for me to see these videos now, for I rarely saw them then. (If it was a dance song, Berlin's djs opted for 'wallpaper' in lieu of it's video.) The visual images that come to my mind are of this music filling the dark, crowded, cavernous room with it's own, almost living, presence.
We just could not stop dancing. We got there usually around midnight, and would rarely leave til ten in the morning. They didn't serve alcohol, so they were open as late as they wanted to be. Because we lived so close, we would drag some friends with us and take 'Medusa's breaks' at home, and gab and drink and talk about how good or bad the night was going, and sometimes take a bath and change outfits. Five hours of non-stop dancing, with four more to come, tended to make one a little weary.
A really great night was being able to run back and forth between Medusa's and Berlin (it was a block away). We were all under 21, so getting into Berlin depended on either: the doorman, their mood, or who you showed up with.
The music always brought me back to Medusa's. The djs, through their spinning, were telling me I wasn't the only one who felt the way I did, or had bad experiences growing up. And to borrow a phrase, I used to be on that train, 'the 8:15 to nowhere', but thanks to these musicians, I was starting to learn I could have a destination.
p.s. Yes, I know I just introduced two new characters; I'm still figuring out the best way to write about them.