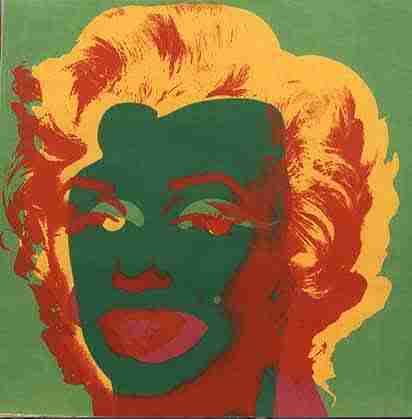 Warhol
The day I turned 21, in 1987, was a bright sunny day, with not a cloud in the sky. Bright and sunny, but not warm, because my birthday's in April. It was one of those chilly/sunny combination days I love so much. It was a chill that gently caressed your skin; it didn't sink in deep enough to make you cold. It had just enough kick to it to make you want to calmly breathe it deeply into your being, and let it invigorate you.
It was an unusually still day that day, too. The old, giant trees of Waveland and Pinegrove sat silently in their mist of baby-green budding leaves, slowly revealing their secret to anyone who cared to watch. The late afternoon sun lit a patchwork of April yellow up and down Broadway, and gave a comforting glow to the few of us that were outside at that moment.
The color of the sun that day reminded me of the neighborhood near a lake in Wisconsin I lived in for a while, in the early seventies. I tried to remember a birthday from that time, and as I walked over to the Orbit Room to meet Scot, who had recently started working there, I recalled in a flash my ninth birthday on Tayco Street:
My parents were divorced, and my dad took a road trip with his girlfriend to Las Vegas in 1975, to visit his brother. I was very upset he was taking this trip, because he would be gone for a long time, and I would miss him terribly, and he would be away for my birthday. He did his best to comfort me, and told me the weeks would fly by, and he'd be back before I knew it. He also told me he would mail me a special present from Nevada.
I sat on the porch waited every weekend hoping to see his Jeep driving down my street, hoping this was the weekend he was coming home.
"Your dad's not coming this weekend, Bri, he'll be back in a couple weeks." My mom said.
My step father made those weekends me and my brothers usually spent with my father a special time, because we were so sad he was gone. We sprawled out on the living room floor as he read us the Sunday comics, he made us his special oatmeal, and we screamed and yelled at the TV during the afternoon wrestling matches.
My present from my dad came in time for my birthday, and I was so excited to get something in the mail that was for me, because mail was a grown-up thing.
It was a small white box, and in it was a western belt buckle. Not a toy, or a game, but a belt buckle.
Is he sure he sent me the right thing?
I thought to myself.
Even though I loved it, I stared at that box and it's coppery contents for hours, pondering it's meaning.
My mom must've noticed me doing this, because later that day she told me
You're a young man now, Brian, and there comes a time when you get less toys for presents, and more special ones. That is a very special present.
When my dad eventually came home, he showed us all the pictures he took, and he told us about driving in the desert, and gambling in the casinos,
Something you have to be 21 to do!
he said.
That's twelve years from now.
I though to myself.
I wonder where I'll be when I'm 21?
Well, I was on my way to Limelight. The bouncer at Orbit Room was a dick, and told me to come back at midnight, because I wasn't 21 yet. I had been there a million times, but he turned me away.
I went to Limelight with Erin and Danny, and met my boss Consita and her friend there. I remember being really happy that night. I didn't get overly drunk, which was rare back then, and I took some pictures. I was happy my childhood was over. I had very little idea how I was going to be and adult, but my limbo period was over. I had been living on my own since I was nineteen, but to the world I was a child, until that day.
There was so many, many things about my childhood I wanted to leave behind me, and I thought now that I was 'officially' an adult, I would be able to.
I didn't belong to anyone now, and the past I had spent so much time fretting over, belonged to the child I used to be, not this adult I am now.
I couldn't have been more wrong.
In the waning months of the summer of '87, when Jody and I still lived together, Doug came for a visit. Yes, Doug, the ex who I was having such a difficult time getting over, came to see the Gay Pride parade. I wasn't sure of his motives for the trip, but I agreed to spend the day with him at the parade. I don't know if I'm blocking this memory, but I don't remember if he stayed with me, or with someone else.
We left my apartment on Pinegrove, and while walking down Halsted, my shorts caught on something, causing a huge rip. A rip so big I had to go back home to change.
All the planning I did on my appearance to give Doug an I'm-just-fine-and-dandy-you-made-a-mistake-by-leaving-me-I'm-gorgeous-and-you-can-never-have-me-again impression, all the hours I put into sewing those shorts making them perfect, went down the drain.
When we finally did make it to the parade, I was in for the shock of my life. Every single person I had ever met in the year and a half since Doug left Chicago was at that parade, and remembered my name and said hello.
Every single one, every few minutes, all day long
. I had no idea I knew so many people.
Hi Brian. Hi. Hello Brian. Hey! Brian! Hello! Brian! Hi! Look! It's Brian! Hi! Hey! Hi! Hello! How are ya?! Hi hi hi hi hi hi hi hi hi hi hi hi hi hi hi hi hi hi hi hi hi hi hi hi hi hi hi....
I felt like Marilyn, in that early eighties made-for-TV movie, in the scene in Central Park, where she's walking anonymously with a friend, and her friend asks her why she's not worried she'll be recognized and mobbed by fans, and Marilyn replies:
She's not here right now, that's why. Do you want to see Her?
And the actress 'turns on' Marilyn, and starts slinking through the park, and is instantly surrounded by adoring fans, while her friend shrinks away, shaking her head in amazement.
Doug was also amazed by what was happening that day, and kept asking me how I knew so many people, and I said,
Oh, you know, people just like me, I guess.
And just when I thought this spell of adoration had ended, and new group of people would round the corner, and it would start all over again.
"Well, you seem to be doing fine here. I'm glad you moved here. Are you happy here?"
Doug said,when we got back to my place.
I didn't know what to say. My feelings were divided. I loved being in this city, and knew I should be here, but I wasn't with him; he had ended our relationship and left Chicago. Did I have the right to tell him the pain I was going through because of our break up? How shattered I was? How crushed my sense of self was? Did he need to know how deeply I felt for him, even though I would probably never see him again? Should I tell him how in awe I was of him, and how privileged I felt knowing he wanted to be with me, the short time we were together?
I looked at him and said...
Well, I don't remember what I said. I probably didn't say anything at all.
Me and Tony Tasso, Limelight, 1987
21! Limelight, 1987
(left to right) Erin, Danny Wickie-Poo, Linda, Me, Consita, and unknown cutie, Limelight, 1987