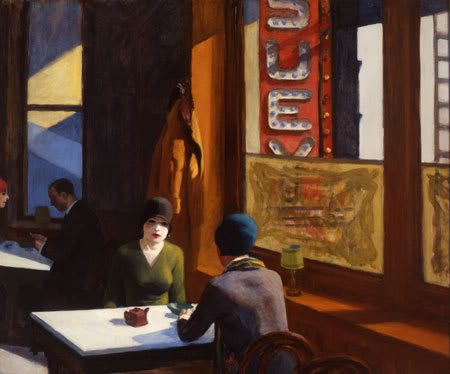 Edward Hopper
Sonya lived for the moment more than any other person I had ever met. She was trim and athletic, probably due to her frequent all night dance-a-thons, was African-American, and wore her hair ala
Miss Hendryx
and her lipstick loud. I first met her and worked with her in 1985, at Demuel's on Halsted near Diversey. Her high energy and bubbly moods were always welcome to me there, and we quickly became each other's interlocutrice; a lot of the time I felt like I had wanderered into Bronte's Gateshead Hall...
Sonya and I were the outsiders, because the owner Demuel shacked up with one of his Iraqi stylists, and with her Iraqi-American sister working there as well, they ran the show.
I got the freaks that walked into the salon, Sonya got the African-Americans that Terry, the manager, couldn't do, and the sisters got everyone else. Not that there were a lot of everyone elses, but had the clients been spread out a little more evenly, Sonya and I would've been a lot happier. And healthier.
We shared each other's clothes and make up, and the richer of us would buy the other's lunch, and we would steal away for hours, either in the back room, where we would cry on each other's shoulders over our sorry, penniless plights, and kick ourselves as to why we didn't leave for a busier salon.
It will get better, I promise! Don't leave!
Demuel would often say, as he loaned us money, or we would pass out cards to the gang at the Belmont Rocks. Sonya always found someone she knew there she knew, and we would laugh our asses off til it was time to go back and face the music. Sonya and her friend's favorite phrases back then were
That's the T! Damn girl, you're full!
and
OOO, that's woogie, chile!,
meaning cool, drunk, and to be avoided, respectively. We would repeat and act those phrases out all day long.
At work, the sisters were fine alone, but when they were together, they would only speak Iraqi, and had loud, salon length conversations, and we couldn't help but think they were talking about us in a negative way. They seemed to have permanent scowls painted on their faces, and a bitterness toward anyone working when they weren't. But when the wind was right, Sonya and I could get them to talking about themselves, and we learned about their difficult, tragedy filled lives in Iraq before they came to the states. They were proud of their Iraqi heritage, and were quick to point out the difference between Iraq and Iran, probably because the hostage crisis was a not too distant memory for Americans. They lost some family members many of their belongings, when Iraq went to war with Iran, and their family barely made it out of alive.
I learned from them that some people divide the world into two different types of people: those who've survived war and unfettered abuse of power, and those who haven't. They could convey to you
You think making fifty dollars a week is a tragedy! You think not having money for one lunch is something to get depressed about! You don't know from it!
with a slight squint from one eye. I've met these types of people in former East Berlin, too. Twelve years ago, the sting of authoritarian rule and divided families was still fading, and the difference between former East and West Berlin was palpable, from the attitude of a lot of the people I came across. They mastered the
You think because you can't speak German you have the right to feel exasperated! Try 28 years of socialism, and get back to me!
look with one squint from their eye, too.
I was never sure where Sonya lived. When I started working with her, she updated me to her long, ongoing fight with her exceedingly religious mother, who disapproved of her late nights and questionable company. It all came quickly to a head when her mother found out about Sonya's girlfriends. As a lesbian forbidden entry to heaven, to lay down her weary soul, her mother felt she was given leave to forbid Sonya to lay down her earthly burdens, in her home. Ever.
"What are you going to do? Where are you going to live!?" I asked her
"I was hardly living there anyway. I have friends to help me out. I'll be OK." She said.
Underneath her constant singing and laughter, I could sense the shame she felt about what her mother did to her, and the stress of not having a true place to call home.
She was a different person after that, and only saw and experienced each moment, second to second, she took up space on this planet. She never let it get her down. She always had a smile on her face.
She did what she had to do to get what she needed, and if that meant she had to be felt up by the janitor in exchange for a bag of clothes from the consignment shop next door to the salon, or had to sleep in the hallway of a friend's apartment building, or had to hide the suitcase that held all her worldly possessions in the alley, so no one found out she had no where to go, she did it.
After she dosed me with acid, with only the best of intentions, after my break up with Doug, any consumable from her was suspect. (See
Pleased to Meet Me
) And because of my over-active imagination and slightly paranoid nature,
everything
I put in my body was suspect. A year or so later I embarrassedly confessed this to Brad, and his response was
I wish! I hope there is acid everything I eat and drink! That would be great!
His attitude, thankfully, shattered the spell I was under.
A few months after I left Demuel's, Sonya asked me to put in a good word with my new boss so she could work with me again. I did, and when I walked in the door on her first day there, I knew I was in for a long ride...
She was singing to my co-worker Jim, with her arms flailing, and the animation in her already bright face somehow doubling, while he had this weird look of deep, profound enjoyment on his face, watching her. She was singing a gospel song she learned as a girl, and Jim made her promise she would give him singing lessons.
"I would love to be able to sing like that!"
Sonya's time at my new salon was doomed, because of
The Mail-Woman
.
Oh shit! It's the Mail-Woman! Sonya! Don't let her in here! Goddammit! The Mail-Woman is here again! Aaah!
The Mail-Woman, Lucy, was in love with Sonya. She was white and blond, and looked bedraggled, like she spent the last year crying her eyes out instead of sleeping. They were a couple once, and lived together for a while (thank God), but Sonya soon felt smothered by her constant attention and lack of freedoms. But for months after their break up, Lucy would get drunk after work and drive her mail truck to the salon a couple times a week, first, to beg her to come back, and then to have it out with her, and demand the things back she accused Sonya of stealing.
Their row would start in the mail truck (she somehow always found a parking spot in front of the salon)
Lucy, no. Please leave. But I love you, Sonya!,
and spill into the street,
Get out of here! But I love you! I LOVE YOU!,
and tumble into the salon:
Are you trying to get me fired? Get the fuck out of here! I hate you! Give me my shit back! You took that necklace! I hate you, TOO!
Needless to say, it drove me and my boss Consita nuts. Jim was jealous of the passion in her life, and secretly looked forward to Lucy's 'visits'.
"Isn't it
great
! She really loves her. I doubt
my
boyfriend would ever do that for
me
."
After complaining to me for weeks about the Lucy incidents, Consita finally fired Sonya. I don't remember ever hearing from her again, bit I feel safe in assuming, because of her indomitable spirit, Sonya is healthy and happy, and laying her head down on a pillow she can call her own.