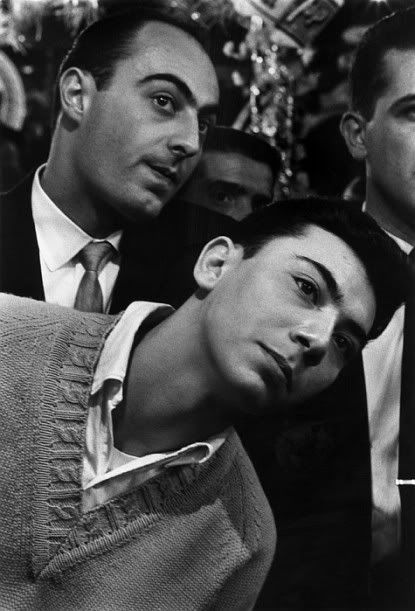 A little jump forward, then back...
Well, I have to admit, in 1991, when I saw Morrissey at The World, near Chicago, I was more into Boy George.
The Martyr Mantras
came out the year before, and to me it was a return to the sound that I came to love about him, and I could not take it out of my CD boom box for an entire year. I tracked down every single and remix I could find. Though KLF's
The White Room
did battle with ...
Mantras
for equal time.
So when my friend Chad asked me to see Morrissey with him that summer, I flinched a little. I thought I had broken up with Morrissey. I had seen The Smiths a few years back, at the Aragon Ballroom, but in
The Queen Is Dead
there lurked too many memories of my awkward and failed relationship with my boyfriend Jeff, and not to even mention the junkies and acid trips and unrequited loves that breathed a painful existence into
Hatful of Hollow
for me. So no, no Smiths for me any more, s.v.p.
Next came
Strangeways
and
Viva Hate
, two albums wrapped around my savior, destroyer, love of my life, and childhood best friend, Brad, where for two years in the late eighties, they were the soundtrack, to borrow a phrase (and mangle it), to the resignation of the ending our lives.
Morrissey has that wonderful way, for anyone the least bit introspective, of really getting to the core of something painful and human, an turning it into an art form that curls around you, and can influence who you are as a person, and create definition. I think all art, enduring or not, does that.
I could not divorce myself, in 1991, of the pain of my life in the late eighties I associated with
Viva Hate
, so Morrissey solo became off limits too, and he fell off my radar. But Chad's offer to see Morrissey got a whole lot sweeter, when he mentioned he could get us close to the stage, because of his boyfriend's connection: a doorman at The Plaza Hotel. Well, how could I say no to
that
!
I never did understand Chad and his boyfriend. I
refused to understand
, would be a better way to describe my feelings. Their thirty year age gap left me judgemental and doubtful of any real relationship, mainly because I wanted Chad for myself. He did manage to convince me, after many long talks, their relationship started how most relationships do: sexual attraction. The clincher, though, was when I saw Chad's collection of 'girlie' magazines. My
I-finally-give-up-you-do-like-older-men
sigh sent him into gales of laughter.
I wore my wonderful faux vintage 1940's Girbaud suit that I bought the year before at the downtown Manhattan Century 21, with a Sex Pistols t-shirt, and in the car on the way to the show, I made Chad promise a hundred times he wouldn't try to rush the stage and get arrested, leaving me to walk home from Tinley Park.
Now, of course, I wish would have kept my mouth shut.
He refused any money from me for the ticket, because the price for third row was pretty high, even by today's standards.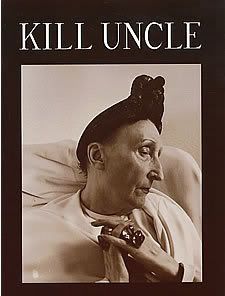 The giant Edith Sitwell back drop was an unexpected surprise, and the star of the show. As a child I spent way too much time making up stories about her, and the other dramatic pictures in
Life
magazine's best-of photo book. Her picture, giant, exposed, and frail, sleepily gazing down upon our adulation of our British pop idol, kind of made me fall in love with Morrissey all over again.
He looked wonderful and sexy, in his now famous gold lame v-neck, and writhed on stage in a way that told me he had moved
way
beyond his fey eighties ways. The most memorable songs for me that night were
Our Frank
, because of the storm of cigarettes that erupted over us, and
...Sunday
, because of the passion he inspired in the audience. But the most memorable experience for me that night was asking
what song is this!
over and over to Chad, because I seemed to recognize so few songs of the man who, just a few short years ago, I thought I had known inside out.
I vowed then and there to catch up with
Bona Drag
(a pillow for my weary head) and
Kill Uncle
(a box of candy), but I ended up spending the rest of the summer with Salinger and
Louder than Bombs
.
I wanted to call this post
Jesus Loves You
, but I'm afraid my gay melodrama would be little sustenance to a Christian desperate enough to Google that phrase...