OK, so I know I've already posted
this
photo, but as I was looking at it tonight, I noticed weird things about it I hadn't before: mainly, I know every person in the photograph. If you look at the faces behind Chris (the one in plaid) they are, in order, Cath, Tyler, and Tracey. Chris and I (the one in all white) are bookended by two guys I dated. Skip, my date that evening, is on the right in all black. (I forget the other guy. Not for bad reasons, I just forget.) I thought it might have been Skip,
it was twenty years ago after all
, but when I saw this
photo
from the same night, I was sure. The guy behind Skip was a friend of Scotty's, Randy I think, and we had a hot/cold relationship because we kind of liked each other, but we also fought over Skip. He really annoyed the hell out of me at the Shakespeare's Sister show at Metro, the following year. (Coincidentally, Morrissey was in town the same week.) I distinctly remember thinking, "I would be having a much better time at this concert if So and So would quit that non-stop queeny arm flailing in Siobhan's face. YES! She sees you!" That show, believe it or not, was sparsely attended, and he stood out like a sore thumb. But I guess I really can't fault fanly enthusiasm. I find it amazing though, how Rene, who took this photo, was able to capture, with one little well timed snap of her finger, all of these people in my life in 1991. Lastly, the two angels of the far right, hands earnestly clasped in our direction, praying for us
all
, I knew
best
of all...
This post is going to be different, because I got some bad news recently about two guys I have written about here. Bryan, who I wrote about in
Whisper Loud And Clear
, and Donny who I wrote about in
Waiting For The Day
have both died. I saw Donny working at a make up counter in New York a few years ago, and pretended I didn't see him. Ugh. So to cheer myself up and celebrate their memory, I feel like I have to add some extra color and some unseen surprises, so I dug through my photo boxes and found some goodies. Check the links out at the bottom.
Chris, above, always thought Boy George sung a little sharp. He was quick to add that that was part of his charm; the imperfect sweet tones of his singing voice. When we all found out he was doing two
shows
at Bistro Too, a club we got wasted at a million times before, it took us
months
to figure out what we were going to wear. I vividly remember the cold drizzly day in 1991 I took
this
off a lamp post on Halsted and Addison.
It took Renee and I many trips to Boytown's alternative clothing mecca, 99th Floor, to debate themes, accessories and price points. We knew we wanted to be noticed and daring, so the minute I found my Tova Borgnine Collection-reject motorcycle cap, and Renee found her black feather bustier, we had our foundations to build upon. They did pose a myriad of questions, though: Did we really want to spend $150 dollars on the perfect shoes? Were we really going to wear those satin tuxedo shorts again? Should we go to Chanel, too? Can I really pull off red plaid leggings? Is buying three necklaces and turning them into one a good idea? The answer to all those questions turned out to be yes. Except the Chanel one. I found what I was looking for in a paralegal lady type catalog for 29.99. I had it sent to the salon, and was so afraid of missing it, I made Renee drive me to work and wait with me in her car for the UPS man, in case he came the day we were normally closed. Yes, I was that desperate to show up in a knock-off Chanel.
Hours later, after dozens of cigarettes and cocktails, the hair was done and the make up applied, we swung by Berlin to show Tasso the outfits we worked so hard on and took some
snaps
, and sped north to Bistro Too, to breathe the same air of our
raisons d'etre
. The first time you see a musician you truly
love
is the best.
The mood at the club was high, we were all excited for the show, and Renee abandoned me for the front row the second George walked on stage, and she took some great shots of him in that gorgeous jacket Leigh Bowery made for him:
pic1
,
pic2
,
pic3
,
pic4
,
pic5
. He didn't disappoint, and we found out when we got there the later show was moved to the next night, and we were more than happy to come back for more. I don't know why I just have one
photo
from the second night, but it's a good one! We took a casual approach to the second night's
outfit
, because of all the stress we created for ourselves on the first one. That's Cath's bedroom. This was
mine
. Chris is wearing my shirt.
Jesus
I was obsessed with Jesus...
I saw Morrissey twice in 91, one of which I wrote about in
Found Found Found
, and the entire summer night is etched into my memory forever, but I do not remember one second of the other show he did that fall, even though Renee assures me that yes, we did indeed attend (I have the stub)and even though it was almost the same week as Boy George's shows. I tend to confuse it with his 92 concert at Poplar Creek, which I remember quite well. Oh well, I guess I took too many drugs or something.
I also saw 808 State in 91 with Mark, whose tape, United State 90, I played to death and Circe Du Soliel with Renee, when they still did their shows in tents. The other show that really stuck with me was the Degenerate Art Show at the Art Institute. It was labeled 'degenerate' by the Nazi's, who knew full well the power of art and imagery to sell their schemes. The art they chose portrayed an idealised view of life, for I guess they were after and selling a kind of 'perfection'.
The art in the degenerate show elicited an emotional response from the viewer, or it inspired debate, be it by the artist's use of color, subject matter or manner of painting. I found room after room of paintings leaping off the wall like that intoxicating and inspiring. I left the museum that day a changed man, with a clearer sense of who I was as a person and an artist, for of course I'm not a degenerate, I'm provocative! For only the basest of cultures label art like that 'degenerate'.
"What you are seeing here are the crippled products of madness, impertinence, and lack of talent" One official declared. Indeed. No wonder it's still one of the most attended art shows in history...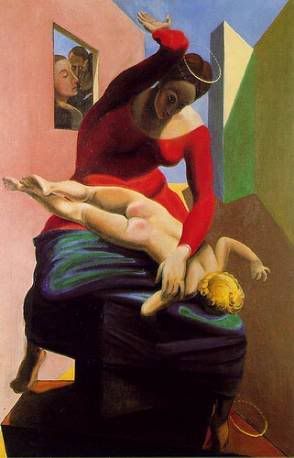 1.
Keep Me In Mind (Japan)
2.
Going Boy for Renee 1992
3.
Erin & Carlisa 91
4.
1987 Limelight invite
5.
Nene 91
6.
NSFW card Wikie used to pass out
7.
Not them, but us! 91
8.
Ooo, a rare 1984 pic of me with some one obviously obsessed with me
9.
Why I use pics of movie stars...Renee
10.
Why movie stars...Tone & Cath
11.
Why movie stars... Erin
12.
Tickets
13.
Pictures of people who love you and kick things
(w/Renee, w/the late Donny w/Renee w/Mark, early 90s) 14.
The late, great, loved, Bryan, 1985
I almost forgot: a mixtape, circa 1994 about Brad,
'pity, pity'
, and a
pic
of me writing this post...